Up in the hills of Montjuïc overlooking Barcelona, remains the legacy of thousands of athletes from over 150 countries. The Olympics Sports Stadium, known as 'The Estadí Olímpic Lluís Companys', was originally built in 1927 for the Barcelona World Exposition in 1929 and was later renovated in 1989 to host the 1992 Summer Olympic Games.
The Barcelona Olympic Games was an absolute spectacle and one to remember; the flame cauldron was lit by a flaming arrow, both Cataluña and Spain were represented in the opening ceremony and Freddie Mercury's hit 'Barcelona' soared up in the charts. Gold medals were shared between a great mix of countries such as the USA, Germany, Spain, Great Britain, France and the Netherlands. Some of the footsteps of the most iconic athletes are even printed into the concrete just outside of the stadium.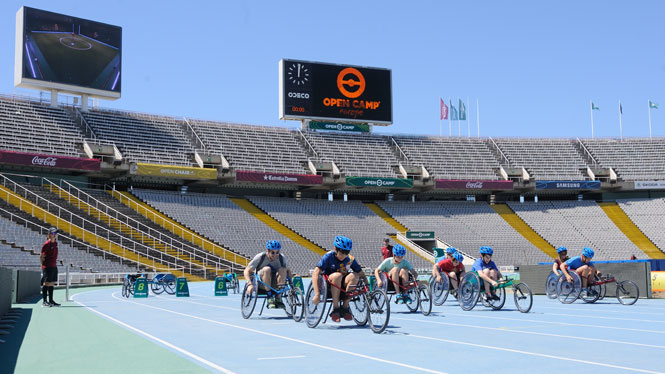 It's Open to Visit
This is an incredible experience for anyone in Barcelona and one you cannot miss out on. Initially, your entrance is free to look down at the vast stadium and explore around the tops of the seating areas. Fortunately, this stadium is far from just being something to look at! Open Camp is a brand new concept which brings the stadium alive. It allows absolutely anyone to join in with Olympic sports from just 5€ per activity or up to 27€ to take part in every experience the park has to offer all within the authenticity of the stadium. These experiences include open sprints, moto, football, basketball, wheelchair racing, long jumps and more! It's an active and adrenaline filled day-out all enhanced by the large, animated screens, sound effects of a crowd cheering and lively songs to really bring out your competitive side and to feel like a professional sportsperson. You could be sharing the stadium and running on the same tracks as the Great British 100m sprint gold medalist, Linford Christie! However, if you need a break, there is an Open Cinema where you can watch exclusive footage and incredible moments of sporting history.
How to Get There
Getting there is easy and you have a few options:
1. Take the metro to Parallel station on green L3 and then jump on to the Funicular mountain train (included in your metro card). After, it's just a 15-minute walk when you turn left out of the station and walk down the Avinguda Miramar.
2. Take the bus line 55 to Olympic Stadium on Montjuïc Hill
3. Take the Port Cable Car, Telefèrico del Puerto from the harbour of Barceloneta up into Montjuïc. It's a little more expensive and you might have a long wait, but it's an experience of its own to see the panoramic views of Barcelona. It is then a 20-minute walk from the station to the stadium.
For more information about prices and travel, visit the Open Camp website.