El Born, sometimes also called La Ribera, is the bohemian heart of Barcelona. This fashionable area is characterized by narrow, winding alleys, classy bars, and chic boutiques. The medieval labyrinth is clad with cultural gems, from incredible, hidden restaurants to art museums and historic squares. The area connects the tourist center of Les Rambles and the surrounding el Gòtic with seaside Barceloneta, making it busy with tourists, international residents, and locals alike. However, despite its popularity, authenticity and a local atmosphere can still be felt with some of the best tapas bars, as well as there being a strong sense of community throughout.
The neighbors are trend setters and followers. Artists, entrepreneurs, single, young and many international people who wanted to live temporary in Barcelona.
The typical apartment in El Born is renovated but the charming Catalan features, such as wooden beams, large French windows, and exposed brick walls have been maintained. A step back in time and a get-away from the more cosmopolitan way of life you'll find in other parts of Barcelona. The apartments often have small balconies for you to enjoy the sunshine Barcelona has to offer and as the area is getting more and more popular, it is an appealing area for people without a tight budget.
RESIDENTIAL SERVICES IN THE AREA
WHY CASAMONA LOVES THIS AREA
El Born is another enchanting area to live in Barcelona. Full of narrow, winding streets and classic Catalan architecture, you can always find new hidden gems around every corner. In our opinion, El Born has some of the best traditional bars and tapas restaurants in the city, which are what attract many locals and tourists alike. Despite being a bit of an expensive area, it is worth it to be in the heart of the most beautiful and culturally rich neighborhoods.
Metro: L4 Barceloneta, Jaume I or Urquinaona
Walk: 10 minutes from La Rambla.
Distance to the Beach: 1.6km
El Born's streets are often pedestrian-only and the atmosphere truly benefits from the lack of traffic. If you want to get around a little more quickly within the neighborhood, a bicycle is the most efficient form of transport.
Picasso Museum
This museum is famous both for art and for the building. The permanent collection includes more than 4,200 works from the famous artist, including his biggest early work collection in the world. Inaugurated in 1963, it was Picasso's first museum in the world, and the only one to open while he was still alive. The museum has paintings as well as 42 ceramic pieces. There is also a bookshop and an open-air terrace café/restaurant. If you want to know more about the museum and even take a virtual tour, you can visit the website here.
Palau de la Música Catalana
The majestic Palau de la Música (literally Music Palace) is a concert hall that opened in 1908, and it's a great representative of Catalan modernism. It originally focused on the promotion of local composers and artists, and still today continues its mission to promote orchestral and choral music, both modern and classical. In the year 1997, it was declared to be a UNESCO World Heritage Site. Many great and famous orchestras, artists and conductors from all around the world have performed within its halls. Guided visits are organized daily. You can visit the website here.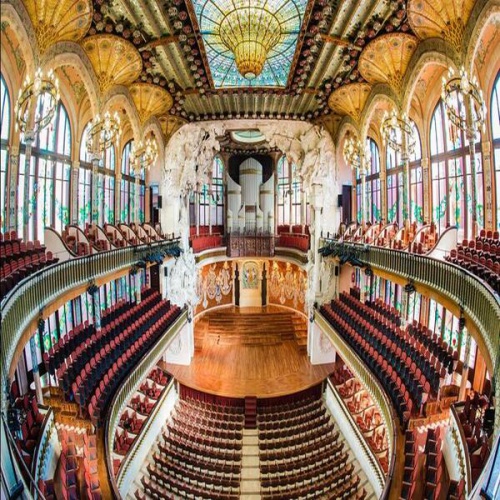 Barcelona's cosmopolitan spirit – diverse and intercultural – is shown by the fact that nearly 18% of city residents are foreigners. The city is divided into 10 districts and made up of 73 neighborhoods, filled with lots of history, culture, and plenty of fun activities for everyone. The neighborhoods are all distinct from one another, each one offering its own best features. We offer unique and different homes in some of the best neighborhoods of Barcelona; let us help you to discover your favorite neighborhood to live in!.