Poble Sec is a neighbourhood in the Sants-Montjuïc area of Barcelona, situated between the feet of Montjuïc mountain and Avinguda Parallel. Poble Sec is a quiet area, making it the perfect place to live for families and locals wanting a more peaceful environment; central but away from the crowds and tourists of the city centre. About a third of its residents are foreign nationals, coming primarily from Italy, the Philippines and Pakistan, making it an incredibly diverse neighborhood. Furthermore, it's a safe and residential area which means it has not only all of the necessary amenities but also many leisure activities and markets. Poble Sec is the perfect neighbourhood for those of you who enjoy peaceful parks. There are several parks and green spaces in the area, especially towards Montjuïc, where there are scenic hills, with lovely views. These spaces are the perfect place to go for a jog, cycle, have a picnic or read a book. If you like to swim, there are large Olympic swimming pools by Montjuic castle which are open for use.
Poble Sec is also known for having lots of tapas bars and cafés at very reasonable prices. In Poble Sec there is Carrer de Blai, which is the best place in Barcelona for tapas. It is a pedestrian street full of bars and restaurants where you can eat pintxos or tapas. Also on this street is the infamous tapas restaurant 'Tickets' which has 3 Michelin stars and has been voted the best restaurant in the world 5 times by Restaurant Magazine. To find out more about this restaurant, click the link here. Not only known for having great eateries, Poble Sec is also characterised by its' theatre culture. There are many theatres in this area that are definitely worth checking out.
In this district, there is a big mixture of old and new. For example, you can find classical Catalan-style houses with traditional mosaic floors and wooden beams, right next to a modern and sleek residence. Many of the apartments have private terraces or balconies and benefit from being in a slightly quieter area of Barcelona.
RESIDENTIAL SERVICES IN THE AREA
WHY CASAMONA LOVES THIS AREA
Poble Sec is another upcoming area in Barcelona that has a lot of interesting, new things to offer. There are many streets full of tapas bars, that become lively, creating an exciting atmosphere during the evening. It's a popular spot for young people in Barcelona.
Metro: Parallel (L2, L3), Poble Sec (L3), Plaça Espanya (L3).
Bus: the Aerobus runs directly from El Prat Airport and stops at Plaça Espanya
Distance to the Beach: 3.5km
Plaça Espanya
This is an iconic square in the heart of Poble Sec and one of the main connection points in Barcelona, where a number of main roads meet, for example Gran Via and Parallel. Plaça Espanya is also home to Barcelona's most infamous and historical bullring. Only seconds away from the Plaça, you can view the spectacular Font Magica (magic fountain). This beautiful fountain lights up in a vivid spectrum of colours while classical music plays in the background, the view at night is especially magnificent. It is free and open throughout the whole year.
Palau Nacional
Poble Sec is home to the Palau Nacional, also known as the National Museum of Catalan Art. It demonstrates the rich, cultural history of the Catalan region and gives a true insight into the Catalan style. This neo-Baroque style building has an extensive collection, featuring Roman, Gothic, Renaissance and Baroque art alongside nineteenth and twentieth century art. You can find out more here.
Montjuic Hill:
One of the best features of Poble Sec is the Montjuic hill. If you have a spare day, make the climb up the hill, which is well worth the trek. There is nowhere else quite like it in Barcelona, where you can take in the truly breath-taking views of the city and surrounding land. Montjuic truly does have so much to offer. Three times a week during the summer, Sala Montjuic shows a vast range of movies in their outdoor cinema. You can also visit the 1992 Olympic Stadiumand the Olympic Swimming Pool!
Joan Miró Foundation
The Joan Miró Foundation is a cultural institution in Barcelona that houses some of the most representative works of this Catalan painter. It contains more than 104.000 pieces including paintings, sculptures and tapestries.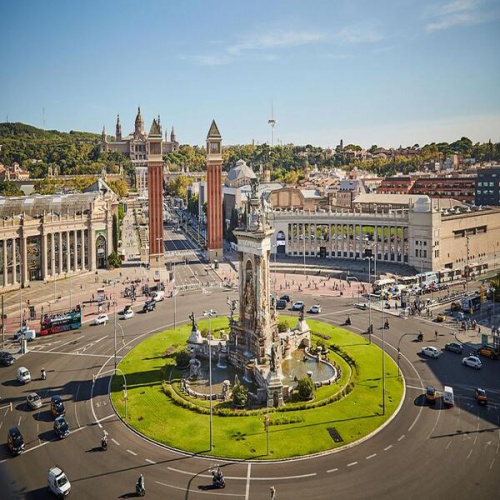 Barcelona's cosmopolitan spirit – diverse and intercultural – is shown by the fact that nearly 18% of city residents are foreigners. The city is divided into 10 districts and made up of 73 neighborhoods, filled with lots of history, culture, and plenty of fun activities for everyone. The neighborhoods are all distinct from one another, each one offering its own best features. We offer unique and different homes in some of the best neighborhoods of Barcelona; let us help you to discover your favorite neighborhood to live in!.