Would you like to live in a modern building with impressive sea views? Then look no further than Diagonal Mar, undoubtedly one of the most interesting neighborhoods of Barcelona. It is a beautiful area with characteristic buildings from the 1980s as well as beautiful, modern seafront developments. As Diagonal Mar has a fairly recent history, all of the houses are in superb condition.
Diagonal Mar is slightly further up the coast from the central beaches of Barcelona and boasts a collection of much quieter and calmer beaches in a more family-orientated environment. It offers an extensive shopping center of the same name, with many stores to do your groceries, shop for clothes, go to the bank, the hairdresser and even the cinema. Additionally, the neighborhood has innovative museums and of course the striking coastline. Moreover, half of the neighborhood is a huge park with a lake in the middle, with many playgrounds and recreational facilities, it is the perfect place to spend weekends with your family.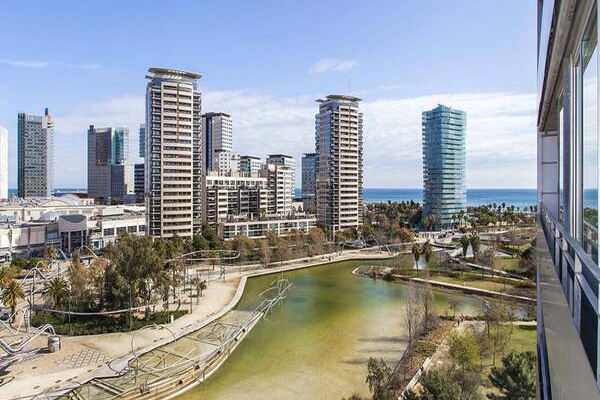 The flats we offer in this area are bright, modern and recently renovated, with private terraces and sometimes even communal swimming pools and gym. The luxury flats in this area offer spectacular sea views from their terraces and balconies.
Diagonal Mar is a region that meets all your needs. Here you will find the huge Diagonal Mar shopping centre, the largest in Catalonia at the time of its construction in 2001, where you can find the best shops, restaurants, leisure activities and cinema. There are many different schools in this area, both Spanish-speaking schools and international schools such as Frindel, which is an international private nursery. For those who like to be active, Diagonal Mar is home to many municipal gyms and sports centres, as well as the Diagonal Mar Park, which is a park with lush green spaces, paddle courts, swimming pools, lakes and playgrounds. The ideal place to spend a weekend with your family!
Parc Diagonal Mar
This unusual park, which is not to be missed when visiting Barcelona, opened its doors in 2002 and was designed by a couple of innovative architects. It is a masterpiece of contemporary sustainable architecture. The park is divided into sections and each area is created to provide the visitors with something unique. There is a playground for children, a lake, sculptures and various tubular elements. Water is the key element connecting all these areas as it is used in different ways to provide a truly wonderful experience. To read more about the park click here.
Museu Blau
The Museum of Natural History of Barcelona, also known as Museu Blau (Blue Museum), is the perfect place for science enthusiasts. Hosting over 3 million specimens from the plant, mineral and animal kingdoms, collected and preserved for over three centuries, this museum displays a wide collection that will teach you about current theories of the Earth and its evolution, with a combination of popular science, education and leisure. The museum contains a variety of interactive sections which sets this museum apart from other classical science museums – click here to learn more.
Parc del Fòrum
Just outside of Diagonal Mar, along the coast, we find the Parc del Fòrum. This is not your typical park, nor a green zone. It was built for the 2004 Universal Forum of Cultures, a project that sought to contribute to the dialogue of cultural diversity, sustainable development and the conditions for peace. Currently, the Parc del Fòrum hosts many different events, from trade fairs to music festivals and other big-scale events, with a capacity of up to 65,000 people. In the park, you will also find the impressive photovoltaic panel, that serves as a symbol of Barcelona's dedication to the preservation of the environment. Visit the park's website here.
Primavera Sound
Primavera Sound is an international music festival that has taken place in Barcelona since 2001, celebrating its twentieth anniversary in 2020. A mixture of rock, pop and underground dance music makes it an experience not to be missed, and turns Barcelona into the capital of music for 5 days in a row. The extension of Primavera Sound is Primavera Club, an indoor version of the festival that takes place every autumn. Visit its website here.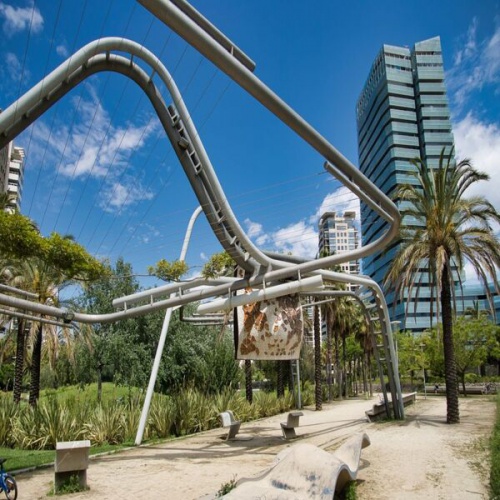 Barcelona's cosmopolitan spirit – diverse and intercultural – is shown by the fact that nearly 18% of city residents are foreigners. The city is divided into 10 districts and made up of 73 neighborhoods, filled with lots of history, culture, and plenty of fun activities for everyone. The neighborhoods are all distinct from one another, each one offering its own best features. We offer unique and different homes in some of the best neighborhoods of Barcelona; let us help you to discover your favorite neighborhood to live in!.